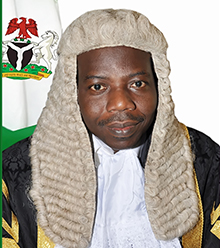 Name: Rt. Hon. Dr. Ali Ahmad
Constituency: Ilorin South
Date of Birth:
Place of Birth: Kaduna
Twitter: @HonAliAhmad
Facebook: Dr. Ali Babatunde Ahmad (ABA)
Position: Speaker
Qualifications: LLB(HONs), LLM, Doctor of Juridical Science (STD), Call to Bar in Nigeria (1989), Call to New York Bar, (1998)
Institution Attended:
(i) Bayero University, Kano.
(ii) Harvard Law School, Cambridge, Massachusetts, U.S.A.
(iii) George Washington University Law School Washington, DC, 2000
Working Experience: Lecturer, Faculty of Law, Bayero University, Kano, University of Ilorin where he became an Associate Professor & Acting Dean of Law Faculty.
Political Experience: Participation in active Politics in 2005 and held various political positions and rose to become Hon. Attorney General & Commissioner for Justice, Kwara State.
• Elected into the House of Representatives (Ilorin East/Ilorin South Federal Constituency) in 2011 and became Chairman, House Committee on Justice
• He became Member of the Governing Council of the National Institute of Legislative Studies
• Sponsored the highest number of Bills in the 7th Assembly and successfully lobbied the House to pass ten (10) of his Bills in one Sitting.